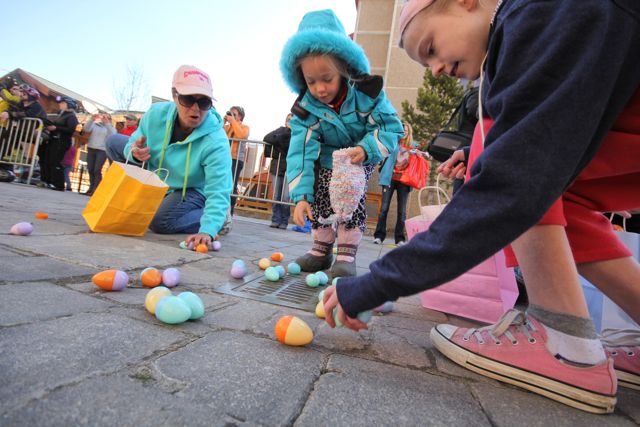 Both Copper Mountain and the Town of Frisco host Easter Egg Hunts Sunday, March 27, making the hunt even more exciting. Plus, Saturday, March 26, Copper hosts Amy Purdy's 2nd Annual Rhythm Rally, a banked slalom single track rally race for all ages and abilities.


Frisco Easter Egg Hunt: Kids 8 and under
The Easter fun begins at noon in Frisco with a visit from the Easter Bunny and three separate Easter Egg Hunts for separate ages.
First, kids can visit with the Easter Bunny (who also happens to have some goodies in his basket) beforehand on Main Street. Selfies with the white bunny are encouraged.
At noon, the bunny himself will ring the bell at the schoolhouse in Frisco's Historic Park, though aged-groups kids will be scattered, from the Town Hall area to the Historical Park.
Children 3 years old and younger should gather, at noon, near Town Hall, at the intersection of 1st Avenue and Main Street. Kids 4-5 years old will search the gazebo lawn at Historic Park, and kids 6-8 will scavenge the upper lawn at Historic Park — that way, no youngins' will get trampled by older, faster kids.
So what about kids 9 years and older? They can head over to Copper Mountain for its largest Easter Egg Hunt.

Copper Mountain's Easter Egg Hunt
On March 27, Copper Mountain hosts the World's Largest Easter Egg Hunt. While it was the biggest years' prior, now Copper has bumped up the hidden eggs from 50,000 to 65,000.
And, for the first time this year, 15,000 of the eggs are made from plant-based, biodegradable material (just in case you don't find those eggs, because, trust us, that all-ages, on-mountain egg hunt is not as easy as it sounds). But you don't want to miss that one, which starts at noon at the top of Copper's Eagle Lift.
The first all ages "Sherpa Hunt" (using Copper's online Sherpa app) starts at 8:30 a.m. You can literally begin anywhere on the mountain. (If you're not an early riser, just shoot for the noon all-ages hunt.)
For children 3 years older and younger, the Easter Egg hunt starts at 10 a.m. at the Center Village's West Lake Overlook Alley. Children ages 4-6 start at 10:30 a.m. at the Climbing Wall by the lower level of the Conference Center. Finally, kids 7-11 years old start at 11 a.m. around West Lake, which has multiple access points for starting the race.
All of Copper's eggs are made in America and filled by veterans and people with disabilities. Copper hopes everyone will recycle their eggs; Hallmark has provided small prizes to the first 400 kids who recycle their found eggs.
Of course, plenty of goodies — not just candy, but also ski and ride prizes from lift tickets to gear — hide in those little eggs, so good luck, and have fun.

Amy Purdy's Rhythm Rally at Copper
And, if you're looking for something even more fast-paced than an Easter Egg Hunt, check out Copper Mountain's 2nd Annual Rhythm Rally Saturday, March 26.
It's a team banked slalom race, which raises money for Paralympic athletes, as well as sports opportunities for kids, young adults and veterans who live with permanent physical disabilities, traumatic brain injuries or PTSD.
It's hosted by Amy Purdy, an Olympic medalist at Sochi. Having earned the bronze medal in the Paralympics, she is the only snowboarder competing at the world-class level with two amputated legs. Since then, she has rocked the stage on "Dancing with the Stars," as well as become an author, motivational speaker, actress and the co-founder of Adaptive Action Sports, which helps those with permanent disabilities participate in action sports.
The single track rally race is open to all ages and abilities. It begins with registration, from 8-9 a.m. at the Adaptive Action Sports Headquarters (at Copper One, Suite A1B), then proceeds with a 9 a.m. course inspection, followed by competitions on Lower Bittersweet from 11 a.m. to 3 p.m. At 3 p.m., live music from Funky Johnson livens up an already exciting awards ceremony.
Registration is $35, and all proceeds benefit Adaptive Action Sport. You, of course, must wear a helmet.
If you don't have a Copper season pass, discounted lift tickets are available for participants. To register online visit: http://adacs.org/rhythm-rally.
So, make sure you get out to Copper Mountain — or at least Frisco — for Easter weekend's excitement.