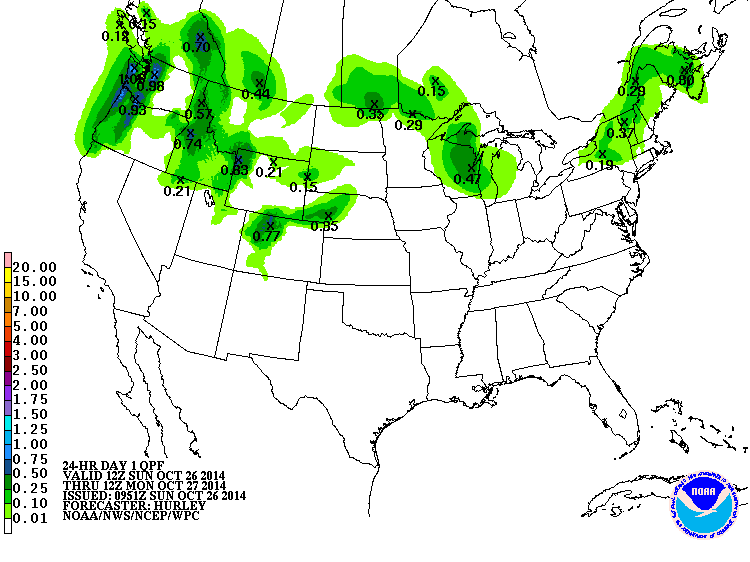 After a spell of tranquil weather, forecasters say a more wintry pattern may bring about three inches of snow to Copper Mountain overnight Sunday, with cool weather persisting for a few days into the last week of October.
Those cooler nighttime lows will help the ski area make final preparations for Halloween opening-day festivities. Just two or three nights of sub-freezing temperatures will enable snowmakers to put down a great skiing surface from mid-mountain down. Up top, the base in starting to look pretty solid.
By mid-week, the weather should warm back up, with sunny days forecast through next weekend, when another Pacific storm system could roll ashore and spread moisture inland. Forecasters with the National Weather Service in Grand Junction say it's the first such system they've seen in quite some time, and that it could mark the beginning of a larger pattern change in early November, with more wintry weather starting to prevail across the Rocky Mountains. Check our blog post on the seasonal forecast from the NWS.

But the exact track for that early November storm is still uncertain and it could be that the Northern Rockies will see the brunt of the moisture. For now, the larger hemispheric pattern doesn't favor big outbreaks of storminess across North America, with a strong belt of jet stream winds keeping the Arctic air contained near the Arctic Circle. But long range seasonal forecasters said an early season buildup of snow cover across Siberia could trigger a change in the jet stream pattern later in the winter, potentiall leading stormier weather.
Here's what's new at some Colorado ski areas this season, and if you're looking for great ski ticket deals at some of the state's ski gems, click here.