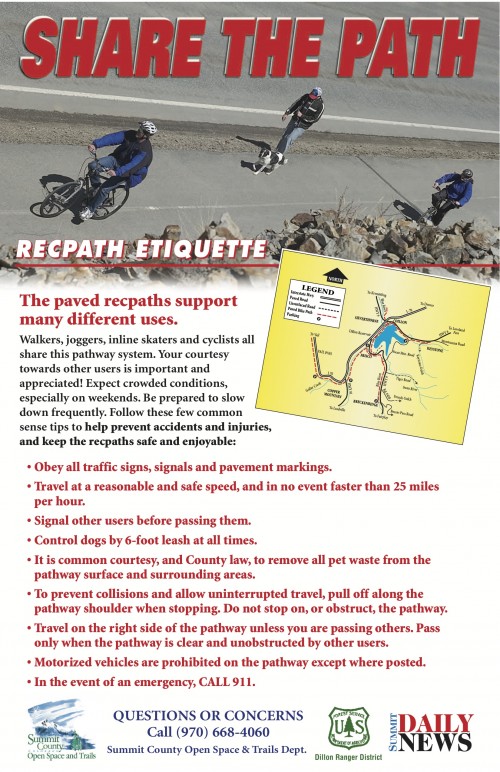 Cyclists ready to pedal the high country don't have to wait for any more snow to melt. Summit County's recpath system, with the exception of the Frisco-to-Copper section, is open and ready for use.
Despite big winter snowfall, county crews were able to clear the pathways a little ahead of schedule, but trail experts warn there may still be a few slick spots.
Recpath users can look forward to a number of improvements and repaved sections this summer, including new connections between Ten Mile Canyon, Copper Mountain and Highway 91.
"We are very excited that our talented Road and Bridge Department had the opportunity to get so much of the Recpath plowing done ahead of schedule this season," said Brian Lorch, Summit County Open Space and Trails director. "Most backcountry trails are likely to be snow-packed or muddy for several more weeks, so we hope that the early opening of the Recpath will provide an alternative to avoid damaging trails during this period when they are most fragile."
Although the path is open, Summit County urges Recpath users to be on the lookout for wet and icy spots. Sandy spots are also prevalent, as portions of the Recpath cannot be swept until after the spring drainage has receded. The Ten Mile Canyon section remains closed due to avalanche concerns.
County officials remind users to anticipate crowded conditions on the Recpath, especially on weekends, and to be prepared to slow down and pull off the pathway when stopping. People using the paved trails may also come upon maintenance vehicles, and should slow down and use caution when approaching them.
Project highlights for this summer on the Recpath include:
Opening of the new Recpath connections between Ten Mile Canyon, Copper Mountain and
Highway 91
Phase 2 of the Snake River Recpath repaving project, extending from Summit Cove to Keystone
Patching of cracks where needed, throughout the entire Recpath system
Copper Road striping, with new bike lanes between Highway 91 and Vail Pass Recpath
New mile markers and increased directional signage.
"We're asking Recpath users to please 'pardon our dust' during construction," Lorch said. "Please slow down as you approach maintenance activities, and always heed warning signs or the directions of authorized personnel. We strive to ensure that the Recpath is a top-notch recreational amenity here in Summit County, and we hope everyone enjoys it safely."
Check out news about Colorado rainbow trout fishing here, and about a new golden trout fishery here. And we tell you about our five favorite fishing holes near Copper Mountain here.