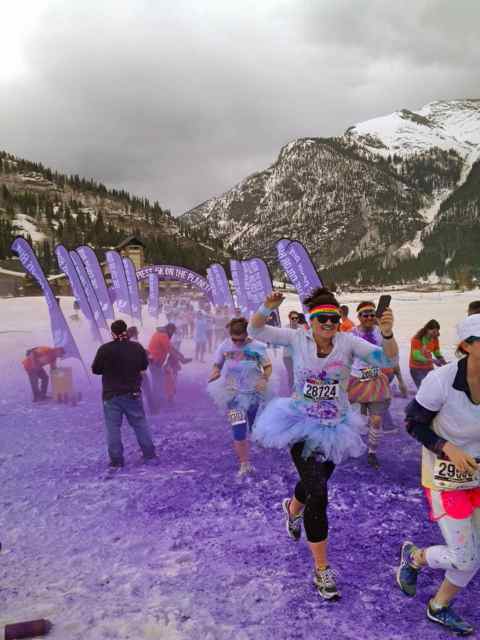 Copper Mountain's last full week of skiing ended with a colorful theme, as the Easter Bunny brightened up the resort with his vast stash of eggs, and Color Runners graced base-area trail with all the hues of the rainbow. And while Easter may be over, the season is not — Copper will open with limited operations for an encore weekend, giving eager skiers and snowboarders the chance for one more dash down the mountain. Read about the bonus weekend here, and find the best Copper Mountain vacation lodging here.
With any luck, there might even be one last dose of fresh snow. Forecasters have been eying an incoming midweek storm but wavering on its exact strength and track, not unusual in the spring season. At the least, passing showers should at least drop a few inches of snow during the week, adding to the already copious snowpack, ranking as one of the top five on record.
And once the winter season ends, Copper plans to keep it going with Woodward summer camp sessions in June and July — that's right, even though A-Basin gets most of the glory for an extended spring season, Copper has quietly been developing its own version, even adding a new lift for easier access to the summer terrain features, including half- and quarter-pipes. Read more about summer on-snow training here.
And if you really have had enough, consider an off-season fishing trip to the high country, where you will once again find sassy, splashy rainbow trout rising to spring bait just a few years after whirling disease all but wiped them off the map. Within a few years, Summit County could also have Colorado's first golden trout fishery, as state biologists stock Old Dillon Reservoir with fish that were originally native to the Sierra Nevada.
Lower elevation trails are also starting to melt out, and despite the snowy spring, the season's first wildflowers have been spotted along the Ptarmigan Trail in Silverthorne. Whatever your pleasure, we have the right Copper Mountain vacation lodging for you, so check our rentals page for the best summer deals, and be sure to follow us on Twitter for daily updates and photos.