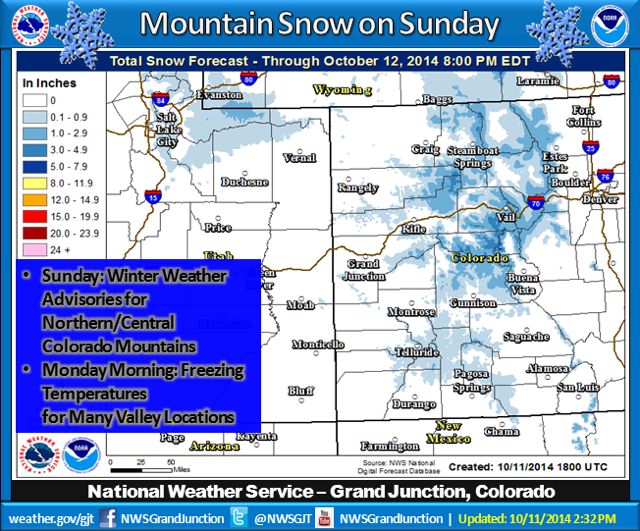 Mother Nature will give Copper Mountain snowmakers a hand this weekend, as a fast-moving storm coming in from the Northwest could drop between four and 10 inches of the white stuff on favored north and northwest-facing slopes. At base and valley elevations, look for a couple of inches.
The National Weather Service has issued a winter weather advisory starting 9 a.m. Sunday, effective through midnight. Snow is expected to start Sunday morning and could be heavy at times before winding down Sunday night. The Weather Channel is also calling for snow, with a high of 38 degrees Sunday.
The weather will blow in with some gusty northwest winds, up to 35 mph, so drivers can expect poor visibility and snowpacked, icy roads, especially on the high passes. The storm will give way to a chilly start Monday, with temps dropping well below freezing for the first time this season.
The rest of the week looks dry with moderating temperatures through the following weekend, though nighttime lows should be plenty cold for snowmaking. Copper and Keystone are set to open Oct 31, while A-Basin could be looking at an opening at the end of the coming week if temps are cold enough for snowmaking this week.
Here's our guide to tracking Copper Mountain weather, with links to the websites we use. Meanwhile, scientists with the Climate Prediction Center are still trying to figure out if El Niño will bring big snows to the Colorado Rockies this year.