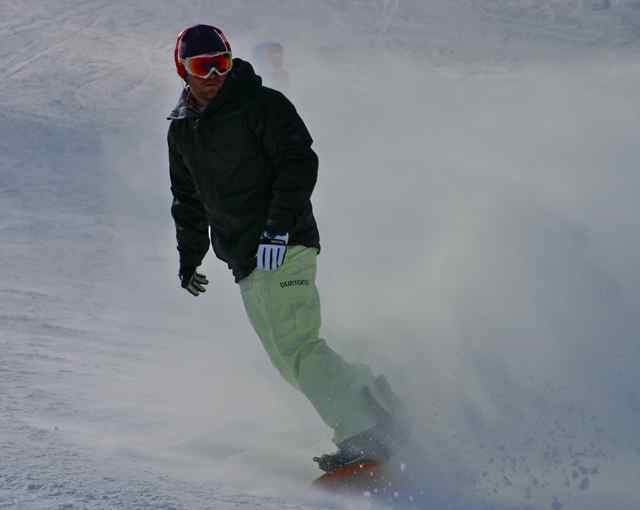 The daffodils aren't quite blooming yet in Summit County, but snow-lovers are reporting a record crop of their favorite harvest — powder snow is falling fast and furious during the last few days of March at Copper Mountain.
Don't be surprised. March and April are often the snowiest months of the year in the mountains above 9,000 feet. More than three feet of snow is not unusual for the "spring" months. Many ski areas in Summit County often end the season reporting the deepest base of the year.
Since the storms cycle every couple of days, there are also spells of sunny weather when the temps quickly climb into the 40s, often just in time for apres ski on the Burning Stones Plaza. Our Copper Mountain ski condos will put you slopeside to enjoy easy access to the lifts and special events, including one of Colorado's biggest Easter Egg hunts.
We love hunting for easter eggs in the snow. And did you know that about 429 million vacation days went unused last year? Don't waste that precious time — you earned it! Use it early with a spring skiing trip to Copper Mountain.
Our top five reasons you should plan an April ski trip to Copper Mountain:
Snow & Sun: April epitomizes the Copper Colorado Condos logo, the brilliant sunshine and snow-covered peaks of the high Rockies. If you stay for a few days, you may well have a chance to make fresh tracks in the morning, then relax in the hot tub under a warm afternoon sun. As the sun sets later, there's plenty of time to explore the Center Village at Copper Mountain, including a zipline and skating pond.
Events & Festivals: Live music is always good, and when you add in the fun of a zany event like the Red Bull Slopesoakers or an on-snow Color Run, it becomes a spring carnival. Be sure to look for spring specials on ski gear, food and lodging.
Live like a local: As spring break tourism winds down, the sometimes-frenetic pace of the base village slows to a rhythm driven by savvy Colorado skiers, who know that you don't need to be on first chair (unless there's fresh snow). If it's a sunny morning, chances are the snow will soften perfectly by 10 a.m. or so.
Easier Acess: The traffic on I-70 usually eases by April, an in-between month for travel along the busy transcontinental corridor. You still may hit a backup early Saturday if there's fresh snow, but in general, the intense, hours-long jams of winter are just a memory. CDOT is now adding another westbound lane in the Twin Tunnels, and is also planning on new peak-demand shoulder tolling lanes. It won't be quite the crush at the Copper parking lots either, and sometimes the rates drop at some of the close-in lots.
Other activities: Longer spring days give you plenty of time to explore around Copper Mountain and Summit County. Try one of the many snow-covered hiking or crosscountry ski tracks in the national forest lands nearby, or check out horse-drawn sleigh, dogsled or snowmobile treks. Hop on the free Summit Stage and catch a show at a Breckenridge theater, or visit one of the old-time ski museums.